"India should regard Rahul Mishra, the winner of the 2014 International Woolmark Prize, as a national treasure."  -Suzy Menkes, Vogue.co.uk
Born in a small village of the Auraiya District in India, Rahul Mishra has become an innovative sensation, magnifying fashion sustainability in all that he does.  Identifying his brand with his own name, Mishra designs with textiles which are ethically sourced.  He tends to work with blends which are over 60% wool (typically Merino).  Mishra's garments inhabit natural qualities not only with the fibers they are woven from, but also in a visual sense with the embroidery techniques utilized on the garments that communicate flora and fauna applied throughout their surface.  In Mishra's Spring 2017 ready to wear line, in particular, he focused on communicating his organic vision with the utilitarian wearability of his designs.  Ensuring the line's status as "ready to wear," every textile and hand embroidery technique has been tested and proven to be washable on a gentle cycle with a household washing machine.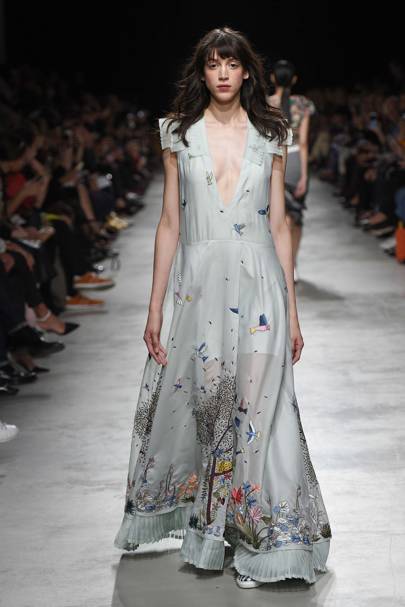 Mishra's work is reflective of India's culture in a historic way. Traditional techniques and craftwork are the foundational elements upon which Mishra's designs are created, regarding his manifestations of these traditions as a modern translation of age-old history. Rahul Mishra has emerged in the fashion industry as the first Indian fashion designer to gain recognition and appear in international fashion week events around the globe.
Mishra's history and mission towards ethical design serve as an inspiration for aspiring designers, as well as a positive and conscious role model for how designers ought to approach a sustainable design model. Researching a modern designer from India has enriched my enthusiasm towards recognizing the differences in textile quality between garments contingent on their country of production origin, and the designer behind the garment.
Works Cited